Research has shown that kids need to consume nutritious food frequently throughout the day in order to maintain appropriate physical and mental energy levels. We promote healthy eating at Manitou Elementary and encourage students to understand the benefits of a healthy lifestyle. For those children eating lunch at school, the salad bar is always available as a nutritious option.
In first grade, students eat lunch at 11:00. They also may eat a snack (sent by parents) once in the morning and once in the afternoon. While the ultimate decision about what a child eats lies with the family, we have offered a list of suggested foods that are good to send to school (Brain Foods) and another list of items to avoid (Brain Freezers).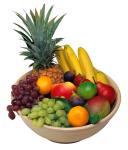 Brain Food
fresh fruit
dried fruit
vegetables
yogurt
whole wheat crackers
string cheese
applesauce
healthy protein bars

Brain Freezers
candy
chips
cookies
soda
high fructose corn syrup
hydrogenated fats
refined sugar
white bread

We also encourage healthy birthday snacks in our classrooms. If you choose to bring food to share in celebration of your child's birthday, please use this list of recommendations to assist you in making your decision. A delicious and healthy fruit tray can be ordered from MSES Food Services and delivered directly to your child's classroom, if you prefer. Check with your child's teacher regarding any food allergies in the class before sending food that will be shared with other children.
FOODS:
Yogurt parfaits
Fruit kebobs
Fresh fruit topped with yogurt
Whole grain waffles topped with fruit and jam/honey/yogurt
Low-fat pudding with strawberries
Dried fruits
Rice cakes
Bread sticks with marinara dip
Bagel slices with jam or fruit toppings
Frozen fruit bars
Clementines
Grapes
Applesauce
Make-your-own trail mixes (kids assemble)
Yogurt covered raisins
Apple slices with caramel or yogurt
Baked apples with cinnamon
Sorbet
Popcorn trail mix (popcorn, almonds, banana chips, cranberries)
Banana ice cream (2 bananas, sliced & frozen, 1 cup unsweetened soy/coconut milk, 2 T almond butter – puree in a blender)
Frozen Banana Krispie Treats (put a stick in a peeled banana, smear in yogurt, roll in Rice Krispies and freeze)
Baked tortilla chips with mild salsa
Pita bread/flat bread with hummus
Muffins (sub. Applesauce for oil/butter)
Fruit mosaic (arrange cut up pieces of fruit to make a picture)
Pretzels
Homemade popcorn
Animal crackers
String cheese
Cheese & wheat crackers
Carrots & dip
* Try using whole wheat ingredients in recipes!
* Chewy fruit snacks are not recommended.
DRINKS
Flavored/sparkling water (without added sugars or sweeteners)
Homemade smoothies (flavored with honey)
Plain milk
100% fruit juices
---